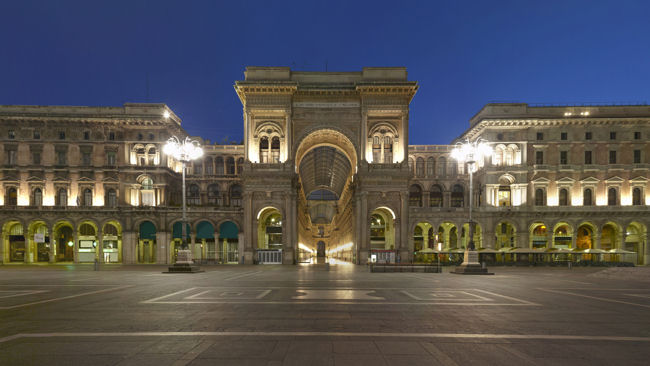 Although Paris was once considered to be the undisputed world capital of fashion, it now has many other European rivals, including several Italian cities.
Of course, there are lively fashion scenes in New York and London, and Tokyo is also beginning to make an impact, however, there's something magical about the style and class of Continental Europe. Italian designers Versace, Prada and Armani, to name just three, showcase their luxury collections across the world and across Italy in exotic cities such as Milan, Florence and Rome.
Milanese magnificence
Firmly positioned at the top of the upper echelons of the Italian fashion scene is the northern city of Milan. This is a destination well known for its cultural richness and gastronomic excellence as well as its leading international role in high-class fashion.
There are plenty of luxury hotels around the downtown city center, and Milan vacation rentals for a short stay are ideal if you want to visit some of the fashionable shopping areas, including Via Della Spiga. There are also cultural delights to enjoy in Milan, such as the magnificence of the famous Duomo Cathedral or the world-class performances of opera and ballet at the La Scala theater.
Roman splendor
Hot on the heels of Milan is the Italian capital city: Rome. It is a wonderful center for high fashion, the arts and good food and an incredibly beautiful city as well. Rome offers a great deal of historical and cultural significance, and a few days in a luxury downtown apartment or hotel will add to its delights. You can stroll around Piazza di Spagna or along Via Frattina, Via Condotti and Via Borgogna to your heart's content and enjoy the high-end stores and boutiques promoting fashions by the world's top designers.
Culturally, there are year-round events in Rome to delight and surprise, including special exhibitions in museums and art galleries of works by world-famous artists and performances and festivals of music, dance and film. The most renowned archaeological sites of the city include the Coliseum and the Catacombs of Rome, while the Vatican Museums house a magnificent collection of works and the wonderful Sistine Chapel.
Fashionable Florence
The old, historic city of Florence has been a designated UNESCO World Heritage Site since 1982. It is the regional capital of Tuscany and famed for its fascinating Renaissance art and architecture. The city's museums and art galleries attract millions of visitors every year. Here, you can visit the marvelous Uffizi Gallery, the Ponte Vecchio and the medieval Florence Cathedral.
Luxury goods from Italy are of extremely high quality, whether you are purchasing clothing, hats, jewelry, cosmetics, shoes or textiles. The Via de' Tornabuoni is Florence's chief thoroughfare for designer shopping in terms of jewelry and fashion. Via Roma and Via del Parione also have upscale boutiques and stores, and all are within easy reach of city center hotels and apartments.
Discreet Turin
Turin is a city that prides itself on cultivating an elegant but discreet sense of style. It appears not to favor flaunting its wealth and instead promotes a somewhat reserved yet expensive style of couture. The English established dress warehouses here as far back as the 19th century, and today, a multitude of designer fashions are stocked in many stores, most notably in Vestil on the Piazza Statuto.
Among the key cultural attractions are the Royal Palace of Turin and the Egyptian antiquities in the Museo Egizio. Turin is also known for its charmingly gracious baroque cafés with their enticing chocolate candies and drinks.
Beautiful Bologna
Famous for its wonderful food, including local cheeses, fresh tortellini and ham, Bologna also has lively and enchanting markets. Perhaps surprisingly, it also boasts a thriving fashion scene. You can find garments by top designers such as Versace, Furla and Dolce & Gabbana in stores along the Via Farina, which is located behind the Piazza Maggiore. If you slide over to Via Ugo Bassi and Via Rizzoli, then you can take a look at more clothing and delightful shoes from up-and-coming designers.
Piazza Maggiore is undoubtedly the centerpiece of the city, and at different times of the day, you can see people rushing through it, gathering in groups or, as with the children, chasing the pigeons. There are lots of churches and museums to visit, and in the evening, you can have a wonderful Michelin-starred authentic Italian meal at the unique Trattoria Battibecco.
Take a quick fashion break in Italy, and make the most of the country's best foods, fashions and outings.