The celebrity chef phenomenon: The Food Network gets huge ratings, cooking reality shows multiply, and some chefs become just as recognizable as movie stars. How do we determine who is the most successful? We drew on lists of annual incomes, factored in restaurants owned, book and merchandise sales, and appearance fees to best estimate the net worth of each star.
Here are the 15 Most Successful Celebrity Chefs. Enjoy. And think about changing careers.
Bobby Flay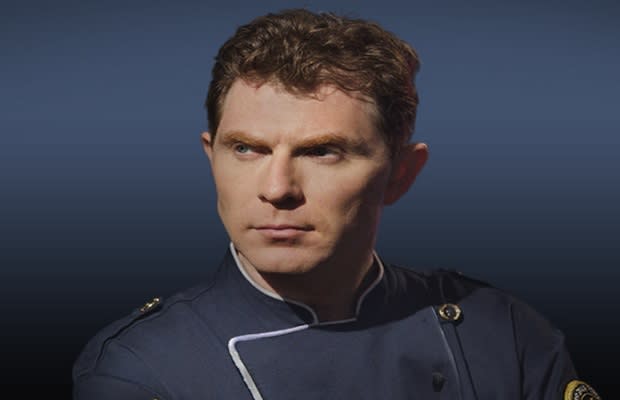 15. Bobby Flay
Estimated Worth: $6 Million
Is it just us, or is Bobby Flay kind of a dick? Think about it: He has a show where he seeks out people who dedicate their time and abilities to making one dish very well—they make it the best they can; they make it with care and love. And then superchef Bobby Flay steps in and says, "Hey. That thing you think you do so well? I bet I can do it better."
Still, he has boatloads of cash—mutlitple television spots, 10 restaurants across the country, cookbooks, appearances, et cetera.
Anthony Bourdain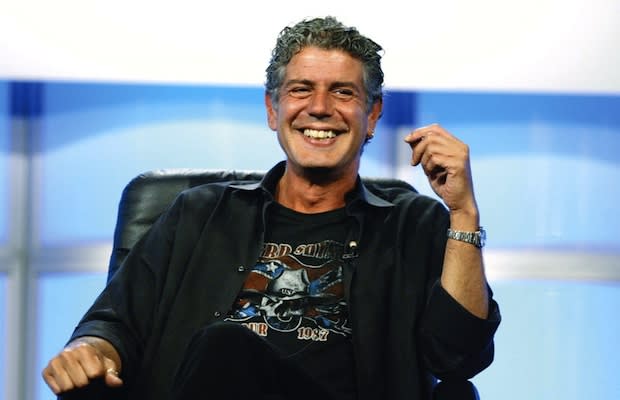 14. Anthony Bourdain
Estimated Worth: $7 Million
Anthony Bourdain is a bad-ass. His book Kitchen Confidential sprung him to stardom by offering a behind-the-scenes look at life in restaurant kitchens mixed with personal anecdotes and stories (lots and lots of substances abused). His show on the Travel Channel, No Reservations, finds him traveling the world getting drunk and eating weird stuff. He's funny and insightful, with a genuine curiosity about the world. He's paid and he deserves it.
Guy Fieri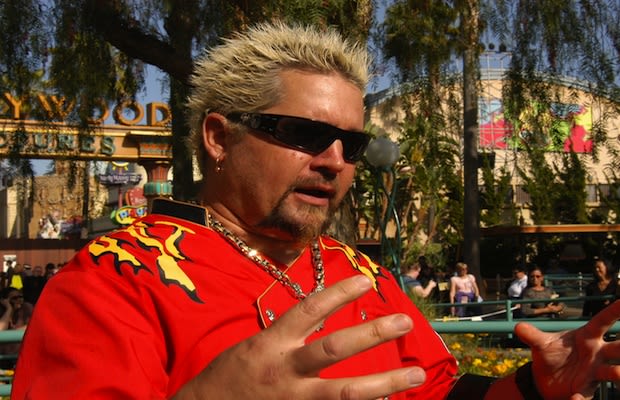 13. Guy Fieri
Estimated Worth: $8 Million
He may look like a douchebag (and might actually be one) but this dude tapped into some latent American desire for frosted tips, backwards sunglasses, and T.G.I. Fridays. He's as much a TV star as he is a chef (some would argue he isn't a chef at all) but his unique brand has given him more money than you. Go ahead, let it out—just cry.
Daniel Boulud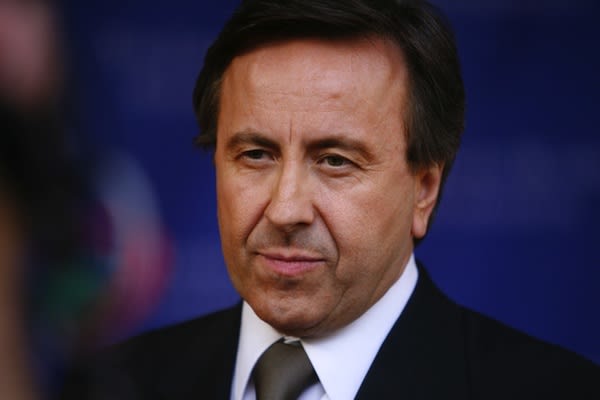 12. Daniel Boulud
Estimated Worth: $10 Million
Daniel Boulud's list of awards and accomplishments is long: Legion d'honneur from the President of France, Culinary Humanitarian Award at the U.N., Chef of the Year, four-star rating from the New York Times, and three Michelin  stars. He's annual income totals around $4 million, and he fronts a management company that owns six restaurants and a catering service. He's not a household name, but he should be.
Giada de Laurentiis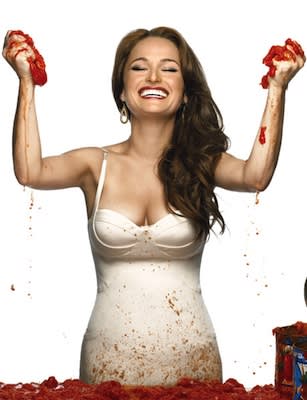 11. Giada de Laurentiis
Estimated Worth: $15 Million
She's the granddaugher of Dino de Laurentiis, who produced a few of Fellini's films,  Death Wish, Blue Velvet, and Army of Darkness; her bloodline is rich with talent. With a line of cookware at Target and a popular Food Network show, she shows up on daytime talk shows all the time. She isn't trying to clog your arteries and she does spout off lame catchphrases on the regular. And she's fine.
Paula Deen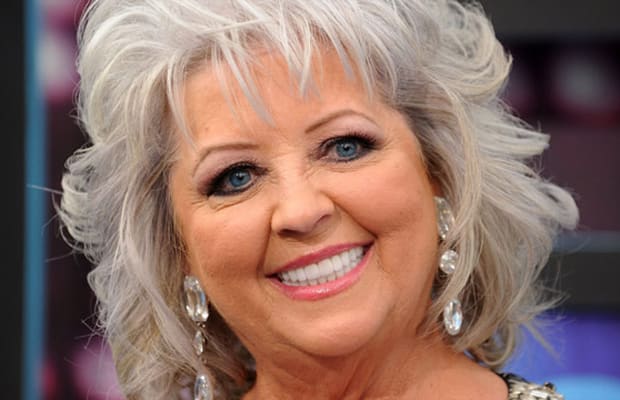 10. Paula Deen
Estimated Worth: $16 Million
World's-most-hated-lady-chef Paula Deen can pay people to say nice things about her (and get paid to say nice things about diabetes medication—zing!) With an annual salary of around $5 million, $10 million in book sales, high appearance fees, and all the shit she slaps her name on, she isn't hurting for cash. Cue joke about donut-hamburger or deep-fried cheesecake.
Mario Batali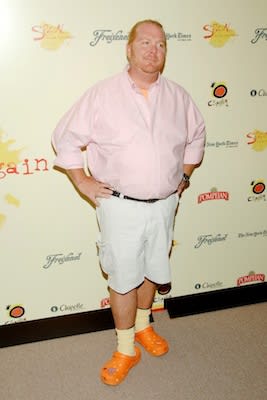 9. Mario Batali
Estimated Worth: $23 Million
Batali is a New York staple. Babbo, Del Posto, OTTO, Manzo—if it's a nice restaurant with a name culminating in a vowel, you can bet Batali's got a hand in it. Most recently, he and fellow Italian celebrity chef Lidia Bastianich (sorry, she didn't make the list) opened Eataly, the 50,000-square-foot Italian goods store (with five restaurants inside). Once you eat at one of his spots, we bet you'll forget about the Crocs.
Delia Smith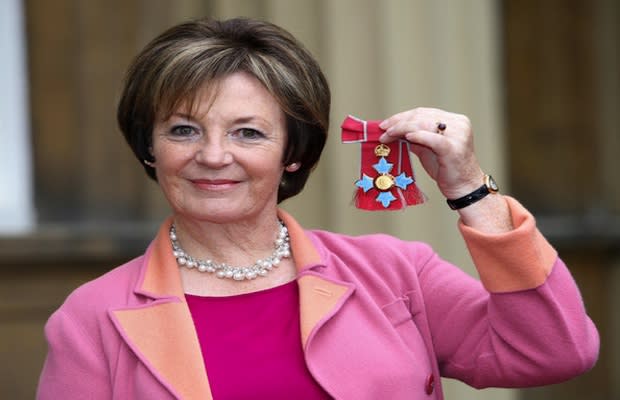 8. Delia Smith
Estimated Worth: $36 Million
She's Britain's best-selling cookery author (over 21 million books sold) and a majority shareholder in the Norwich City Football Club. There's a story out there that one of her cookbooks caused egg sales to increase 10 percent, giving rise to the "Delia Effect"—think the "Colbert Bump" but with foodstuffs. Some of the more uppity foodies were pissed when she showed viewers how to boil an egg, but when you're this paid, you start to feel entitled. For example, in 2005, during halftime of a football match, she grabbed a microphone and tried to get the crowd going. She denied accusations that she was drunk. Maybe she was just drunk off the life.
Emeril Lagasse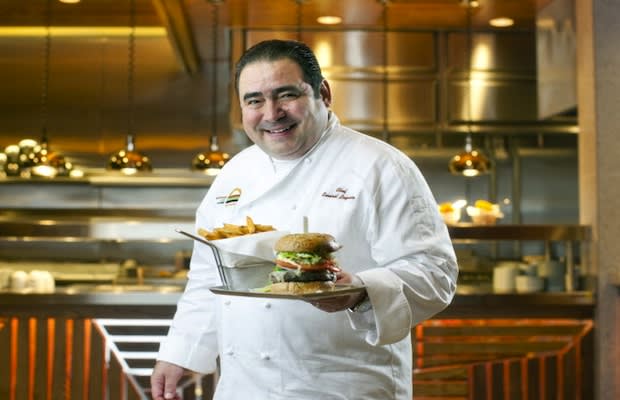 7. Emeril Lagasse
Estimated Worth: $45 Million
People either love Emeril or hate him. Emeril Live rocketed him into the celebrity stratosphere and for a while "BAM!" was as ubiquitous as "wazzzzzup." He built an empire of restaurants and cookware before eventually selling his brand to Martha Stewart for a cool $50 million. Though he's often parodied on Futurama, his cooking is decidedly better than Elzar's.
Tyler Florence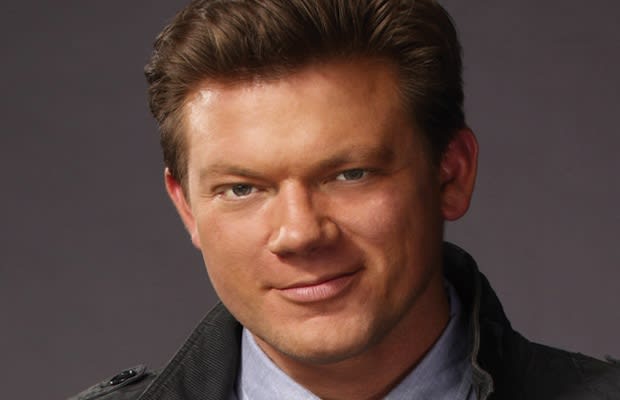 6. Tyler Florence
Estimated Worth: $50 Million
He looks like Bobby Flay, but he's missing the attitude. He has a popular show on the Food Network, Tyler's Ultimate, an endorsement deal with Got Milk?, four restaurants, three kitchen supply shops, wine, cutlery and cookware, a baby food line, and a cooking app with iTunes. Honestly, he just looks like a nice guy. We can even forgive him for his partnership with Applebee's—everyone's gotta eat.
Gordon Ramsay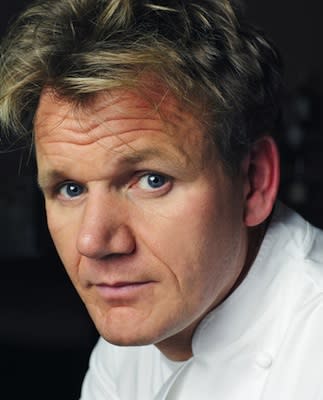 5. Gordon Ramsay
Estimated Worth: $60 Million
Gordon Ramsay is everyone's favorite foul-mouthed British chef and TV personality. In 2008, he was on the same Sunday Times rich list as Jamie Oliver, with a worth of $81 million, but since then, he has suffered numerous legal and financial troubles; his pockets must be hurting. Still, with an annual personal income around $6 million, we're guessing he'll be fine.
Rachel Ray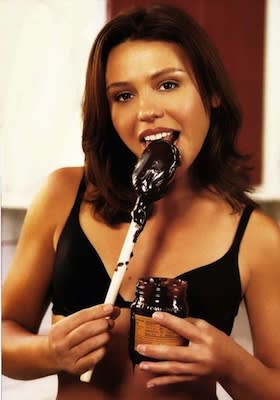 4. Rachael Ray
Estimated Worth: $60-100 Million
She's been left off similar lists because she doesn't actually own or cook at any restaurants. But this strikes us as sour grapes. Her presence on the Food Network with 30 Minute Meals and $40 a Day led to Oprah giving her own talk show ("YOU GET A SHOW!"). She's amassed loads of endorsements, products, and an empire of food-related stuffs without ever having opened a restaurant. Sure, she may be annoyingly bubbly and has coined some silly catchphrases ("E-V-O-O", "yum-o"), but she makes bank, bro, so quit hating. Enjoy the photo.
Alaine Ducasse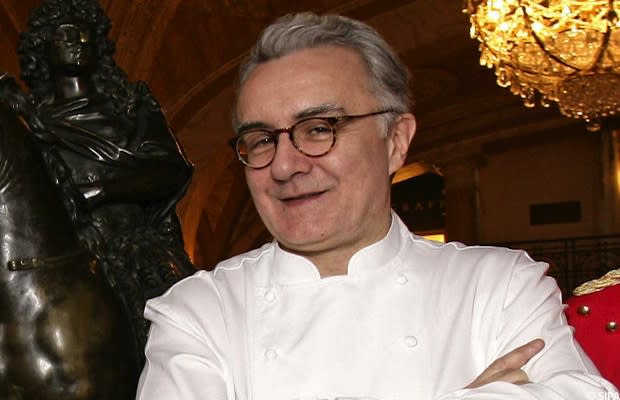 3. Alain Ducasse
Estimated Worth: $120 Million
Alain Ducasse may not be a household name in America, but he's got 30 restaurants and three hotels around the world that pump cash into his pockets. In 2005 and 2010, three of his restaurants received three Michelin stars at the same time. He's got cooking schools, cookbooks, and a consulting service to boot. He also survived a plane crash…maybe he knows something we don't.
Jamie Oliver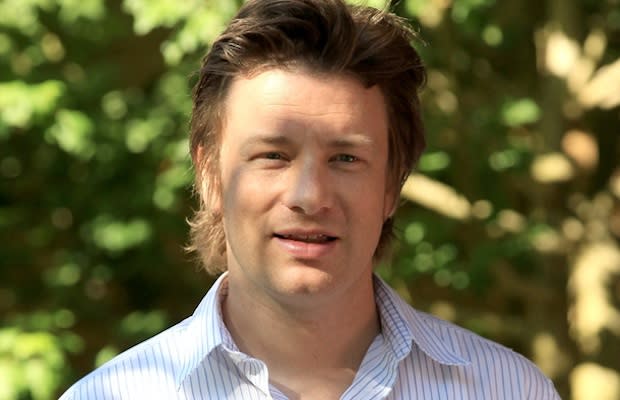 2. Jamie Oliver
Estimated Worth: $172 Million
The Naked Chef's food empire earned him a place on The Sunday Times richest Britons list. His crusade against child obesity via the promotion of healthy eating habits earned him a TED Prize of $100,000. He's been on more TV shows than we can count, published 16 cookbooks (and made over $100 million in sales), and has 28 branches of his Italian restaurant worldwide. And in case you were wondering if he was just insanely rich, note that he's also a badass. In 2005, he slaughtered a lamb on his TV show. Just because.
Wolfgang Puck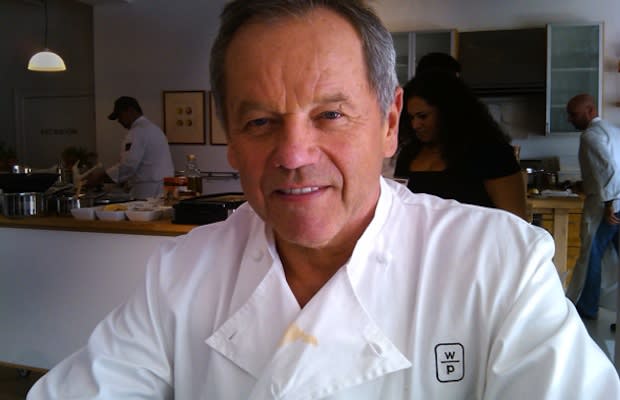 1. Wolfgang Puck
Estimated Worth: $400 Million
He owns Wolfgang Puck Companies, which oversees 21 restaurants, a catering business, 50+ Wolfgang Puck Express cafes, kitchen appliances, food merchandise, and cookbooks. He's the official caterer of the Academy Awards and has been on Frasier. Puck is is the celebrity chef par excellence, and tops this list with a roughly estimated $400 million bones.